How It Works
We combine adult learning principles, advanced technology, and best-in-class customer engagement strategies to create online courses in 60 days or less!
Contact Us
Learn more
Starting Your Online Course or Membership Website Should Be Fast And Enjoyable
Our step-by-step approach will effortlessly walk you through the entire process. Consult, design, build, launch and manage is what we do and you'll benefit from our proven systems and methodologies.
Initial Meeting
This initial meeting is our opportunity to dig into the requirements of your project so we can begin designing the right solution. We uncover what's working and what's not working. We go over the 7-Activators™ and how to incorporate them into your courses.
Second Meeting and Proposal
Here we layout the various steps of the project, provide a face-to-face meeting with everyone working on the project if possible, and make sure deliverables are well understood and the timelines are in place. We produce a detailed proposal based on our prior meetings. The proposal includes a scope of work, roles, responsibilities, and our legal contract. 
Onboarding Process and Launch
Our proprietary client onboarding process will ensure you and your team get off to a fast start. Your dedicated Project Manager will guide you through a four-stage process of consultancy, design, build and host. This will typically span 40-60 days in duration.
Your Proven Path to a Successful Project
This is how we make you awesome! Once engaged, you'll follow our tested, proven and continually optimized process to assure a successful launch of your online course or membership site.
Consult
Collaborating with your team, we apply proven practices and creative ways to help develop the foundation for your dream platform.
Design
The approved concepts are put through a rigorous process and the project's physical and digital assets are planned. Our team of curriculum designers, graphic artists, programmers, and strategists execute all elements of your project.
Build
Your vision and content come to life. Our team will build your course and site. Once it is built, the testing phase begins. Your site goes through a five-person 167-step checklist before we take in your first client.
Host
We partner with GT.NET to host all of our client sites. They run and enterprise-class data center and infrastructure for the Fortune 500 companies. We enjoy global availability and a worldwide presence.
World Class Client Onboarding
Building e-learning platforms is all we do. We have built a systemized process that feels like you are following a wizard as we take you through the consult, design, build and host phases.
Each phase has its own training course where you are taught the big picture so you can execute on the tasks on hand with speed and ease.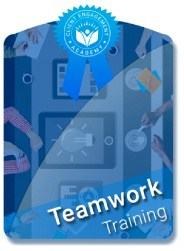 TEAM WORK TRAINING
Teamwork is critical to our systemized buildout. We have tested over a dozen project management platforms and chose Teamwork PM because it's the easiest for you to learn.
This training will take you through the basic skill sets necessary to quickly operate Teamwork. We will be working inside Teamwork on a daily basis as we build out your site.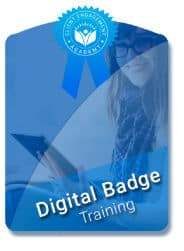 DIGITAL BADGE TRAINING
This training covers everything you need to know about Digital Badges. It is crucial to understand the psychology behind the Digital Badge and how they improve client graduation rates before initiating the development process. We will cover the power of the viral social loop, words that sell and the Digital Badge mechanics.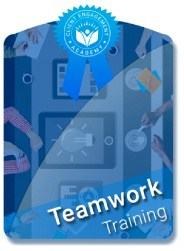 COURSE & LESSON TRAINING
Teamwork is critical to our systemized buildout. We have tested over a dozen project management platforms and chose Teamwork PM because it's the easiest for you to learn.
This training will take you through the basic skill sets necessary to quickly operate Teamwork. We will be working inside Teamwork on a daily basis as we build out your site.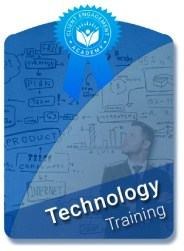 TECHNOLOGY TRAINING
Technology is the key to providing an incredible student experience and running our platform. This training focuses on your first few action items so our team can get started right away. You will learn which are the critical software components and how they integrate into your website.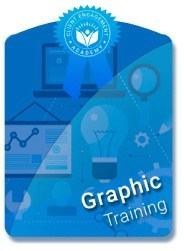 GRAPHIC TRAINING
Graphics are critical to the long term success of your program. The strategy and development process of your graphics package is totally systematized. During this training, you will learn about the graphic suite, the philosophy behind the design and how to get started designing your graphics. The graphics need to be finalized before the building of your course.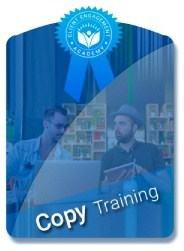 COPY TRAINING
Copy writing is a critical component to increasing client engagement. Copy writing is required in your student onboarding pathway, website, lesson pages, accountability communications, digital badges and other areas. Like almost every process in our build out, we created easy to follow templates to expedite the process. This training will cover the strategy behind the words and how to use the templates.
We guide you every step of the way!
Our team of consultants are with you every step of the way and we
are continually available for help via shared screen sessions, email and project management alerts.
Frequently Asked Questions
How do I start a project?
The simplest way is to
click here
where you can tell us about your project and we'll schedule a meeting with a consultant. There is no up-front money required to talk to us and we'll help you figure out the best path.
If I have an existing membership site, would I be able to move my members over to my new site that you build for me?
Yes! The process is fast and easy. All of your existing customers will enter into a "upgrade" campaign where you announce and show all of the new features.
Can I host my own sites?
We require that we host your site to assure the fastest and most reliable customer experience. Additionally, our platform has been continually optimized for our hosting solution at GT.NET. Their engineers went through every line of code to perfect the experience on their hosting solution.
Included in our hosting is the continual update of all of your technology and software. We are responsible for 99.99%+ uptime. With our hosting service you get the your site continually optimized for speed. A world class hosting partner. Our hands on and friendly tech support at your service. All of our proprietary plugins, software and scripts to maximize your students outcomes and minor updates to your site throughout the month.
Do I host my own videos or need my own servers?
No. Our solution is a fully hosted solution on one of the world's fastest and reliable servers and platforms. You don't need to host your videos either. All of our clients' videos are hosted in their own Wistia account.
How will the site be designed? What framework are you using?
Our sites are all built on the best-in-class technology. Your site will be designed using the Genesis Framework on WordPress.
How many courses can I have on my membership website?
There is no limitations to the number of courses that the membership website can handle.
How many free and paid members can I have?
You can have unlimited free and paying members. You can configure access tags, which control which type of user will see specific content and courses. Depending on their profile, you display different content to each.
What is the policy if I want to end my service and leave your platform?
Your Client Engagement Membership Website Platform consists of your content and your own domain, which will always belong to you, and can be moved whenever you please. Of course, The Client Engagement Membership Website Platform provides advanced proprietary functionality that may not be available in other solutions.
Do I need a shopping cart system ?
Yes. You will continue to use your current shopping cart or order system. All of the necessary integration will be handled by our team of experts.
What is your technology stack?
Our Technology Stack consists of:
Website: WordPress – Genesis (customized, fast and reliable)
Server: GT.Net (Fortune 100 companies – fastest on world. CNN, Oracle, Dept of Defense)
Infusionsoft – done- for- you set upMemberium – done- for- you set up
LearnDash – Learning Management System (LMS – customized and done for you)
Wistia video playerMobile app software programmingCustom programming and scripts
Credly for digital badges
Personalized Site Build For Digital Courses and Membership Site
We build everything for you. You never worry about the technology. We build your site from your existing style guide, all images, fonts, and look and feel.
Infusionsoft
Done- for- you solution. Every email, tag, link, and all of the purchase, accountability and upsell automation, including all of the algorithms. Build all API work and Memberium.
Memberium
Done for you.
Course and Content Creation
We consult on every level.
We write the course, quizzes, workbooks, transcripts, and finals from scratch
We re- energize your current course or membership site.
Learndash – Course Programming
Done- for -you solution – we install everything. Tests, quizzes, achievements, point scoring, leaderboards, final exams.
Digital BadgesWistia
We build all of the video website content for you and all of the coding, etc.
Audio Player, Workbooks and Transcripts
Done- for- you installation of audio from your video.
What Is "done-for-you"?
Personalized WordPress elearning website design
Infusionsoft or Active Campaign Programming
All graphics and copywriting for elearning website
Accountability email installed
Tag-based reports installed
Badge and diploma copy
Algorithms: Onboarding and engagement automation
Website speed optimization
BuddyPress ForumsFree and paid directories
Coaching and reporting portal (coming soon – extra add-on)
What are some of the features and functions of the platform?
Website Functionality:
Unlimited Membership Levels and Users
Automatically block access to contacts with failed payments
Multi-level memberships ( ex. gold / silver / bronze )
Paid and free membership levels
Customers create sub-accounts for their family, team, students, company
Drip content on your custom schedule
Separate home pages for each membership level
Dynamic content displayed based on membership or tags
Support multi-level parent and child accounts
Prevent concurrent logins and sharing
Self-service payment, cancel and update credit card functionality
One click upsells and purchases
Unlimited payment plans and recurring subscriptions options
After the site is built, do you continue to help us?
Ongoing Consulting
Learner real-time reporting, comprehension & engagement analysis
Revenue Optimization
Product Roadmap
99.99%+ uptime, site maintenance & updates
Site speed analysis, optimization & performance tuning
Amazing 24/7 customer support with phone numbers
What Does Your Consulting Consist Of?
Consulting
Product Pricing Strategies
Product ascension model and course profitability analysis
Multiple membership level pricing, profitability and upsell
Structural course and lesson curriculum design
Quiz and final exam design How to get leads for free
Digital badges, gamification, and leaderboardsLearner onboarding, automatic accountability, and communication
Learner engagement and course completion rates
How to get branded as a global leader
Copywriting, Graphics & Design
Mobile app creation
LMS course and user interface design
Mobile optimization and phone app design