Best LMS Solutions
We incorporate cutting-edge LMS solutions and proven methodologies coupled with a passionate and experienced team.
Contact Us
Learn more
Get the Most Out of Your LMS Platform: Manage, Track and Report Your Online Courses
Setting up your LMS platform correctly takes time, expertise and exhaustive testing. Client Engagement Academy saves you all of this with our Done-For-You Services. We implement, manage and track everything so you can concentrate on your core business activities.
Here's what our Done-For-You Services have in store for you: 
Custom-built feature and branding:

 

We customize the learning management system with your own colors, logos, and images to create a familiar environment for the learner.
Student Engagement:

 

We have a keen focus on client engagement and helping students complete your courses so they get an outcome and buy more of your products.
Tracking:

 

We track and measure student performance by gaining insight into user activity and learner's progress. You'll get to see who's signing up for which courses, who's engaging and who isn't logging.
Curriculum Development:

 

We'll take you through a step-by-step process to organize and create your courses. The student outcome is designed along with the lesson outlines, PowerPoint presentation slides, quizzes, final exams, workbooks, and other supporting documents.
Automated Reporting:

 

Everything is automated in your LMS system to identify which students haven't completed a course. Intelligent Automated Client Accountability sends this students reminders to keep up with their coursework when they fall behind.
Building Student Success Through Professionally Designed Curriculum
The design of course curricula is a significant factor in determining your clients' success. Our complete LMS consulting and implementation services ensure your customers easily access your learning, find resources quickly and get the results they want from the course.
We'll make sure all the necessary components to accelerate their progress are included:
Personalized Learning Paths
Keep learners engaged and coming back for more with learning paths. We program and install logic algorithms to control who gets what, when, where and how.
Gamification
People love being rewarded for their achievements. We'll use gamification elements like badges, points, and levels to keep customers engaged throughout the learning journey.
Completion Certificates and Digital Badges
Award your students a certificate upon successful completion of the online course to recognize their effort, achievement, and progress.
A Learning Management System That Simplifies The Learning Process
We're sure you have an information goldmine for your learners. But are you presenting content in an engaging and simplified way?
Your Learning Management System is the core of a successful online learning program. It should run smoothly and assist the learning process. We leverage our expertise to simplify your customer's user experience – reducing learner friction, increasing overall clarity, and making your online program more effective
Consistency:

 

Consistency reduces the learning curve. We make sure everything is in harmony with your brand.
Simplified Navigation:

 

Navigation shouldn't be cumbersome and heavy. An LMS platform that's complicated to navigate causes frustration, and can negatively impact completion rates.
Easy-to-Use:

 

We ensure the experience is intuitive so your learners can easily move through the courses and complete the courses with no hassle.
Reduced Distractions:

 

You cannot expect a student to concentrate on taking a lesson if there is too much going on.
Stop Guessing About Your Online Course!
Do you know why your student outcomes are low? We analyze course data and use it to make informed decisions about where to improve your course content and structure so that your students get much better results, radically improving the Lifetime Value of your customers and your profits.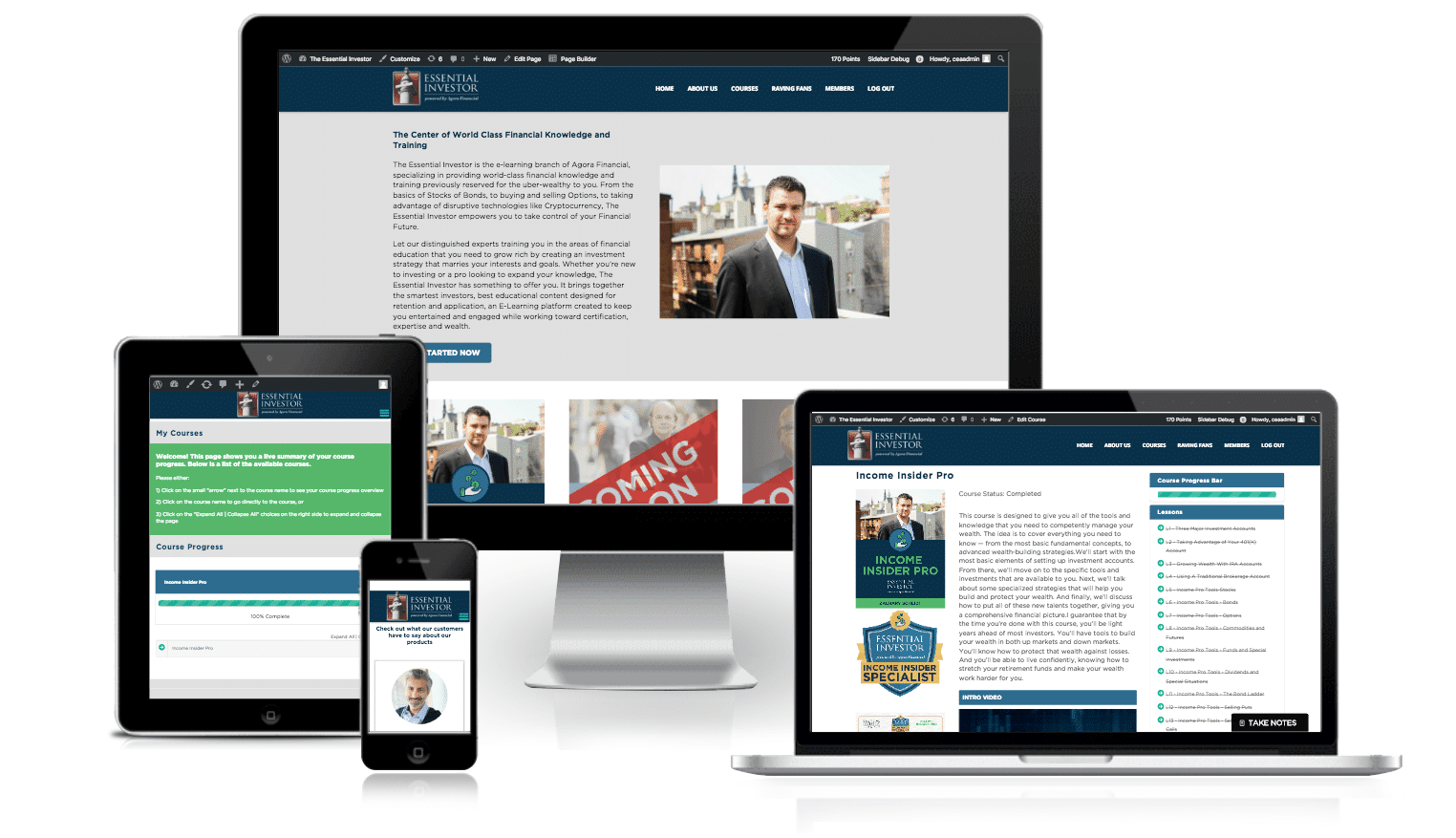 Advanced Technology Stack
To implement your LMS system the right way, we get to know your business, including who your customers are and who needs to receive reports on learning progress. With our consultative approach, we'll build a tailored solution for your business.
We've highly customized WordPress, Genesis, LearnDash, Memberium, so they operate with speed and 99% uptime with either Infusionsoft or ActiveCampaign. Additionally, we've built a portfolio of custom scripts, software, plugins, and functionality so that we say yes to every custom requirement.