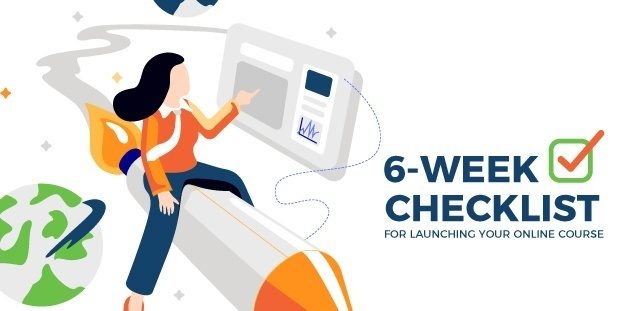 Chances are, if you're reading this article, you're in the process of creating an online course and are looking to have a successful launch. Or maybe you're already a seasoned course creator looking to launch a course better and stronger this time around.
Regardless of where you are in experience, EVERY online course creator can benefit from reviewing this checklist.
In general terms, building a successful online course involves three key tasks:
Creating the right offer and

attracting the right audience
Launching the course successfully
Achieving Student Success
Working with my fair share of companies, I know how daunting and challenging all this can seem. As a result, I created this 6-week checklist to help guide you through the online course launch process.
Week #1: Set Course Launch Goals
Ever play darts? The rules are pretty simple. The main object is to hit parts of the board with the highest points—the highest scoring part being the bullseye. Now, imagine the game without targets. How would you know what to aim for?
Don't launch a course without having a clear goal in mind. It's not enough to wishfully think your course will sell itself. Sit down with yourself and be honest with your expectations. Creating goals will help you measure your progress, also allowing you to identify where your course may be underperforming.
The first goal you should set for yourself is your goal revenue. This number is very personal. While it's important to pick a realistic number for yourself, don't lowball yourself either. You've spent a lot of time and money to create your course, and you need to make a profit. Set a monetary goal while setting a sales goal. Create a goal to sell x amount of courses and make $Y in sales. Once you have goals in mind, it's time to plan how to hit them.
While these statistics are just estimates, they do give you a rough idea of what numbers you need to hit. Plug your numbers into a spreadsheet and calculate your goal revenue, your course price, your desired conversion rate, and how many sales & email addresses you need to meet your quota.
Week #2: Create a High-Converting Sales Page
Your sales page is EVERYTHING. In my previous post (Why Students Don't Complete Your Online Course), I covered how an inaccurate sales page can result in student dissatisfaction and poor completion rates.
Think of your sales page as an extension of your course. If your sales page is bad, your audience is going to think your course is bad. In order to have a successful online course, you need a successful sales page.
If it helps, you can think of it like online dating. Your page is like a bio. In it, you should describe your subject to your audience and explain how they're going to be compatible with your course. Your page is the first impression people are going to have of your online course, so it's important to optimize it to ensure it looks professional.
I'm sure you've heard the phrase never judge a book by its cover. While it's certainly true that looks can be deceiving, the reality is people don't know how great you or your course is yet. Therefore, appearances are one of the few things people can judge your course on. As a result, you should invest money into creating your page design and content. Consider hiring a graphic designer and/or a copywriter to make your page as powerful as possible to maximize your conversions.
Read this guide: How To Create A Sales Page For Your First Online Course Or Product
Key Tip: In your page, you should communicate, above all, outcomes. Outcomes are goals people want to achieve upon course completion. They are the driving factor for why people are taking your course.
Why do you think millions of students take out loans to spend tens of thousands of dollars to get a college degree? It's because they believe their degree will lead to more personal/professional opportunities. Students believe their education will allow them to get the job they want /the chance to get a job they want.
Your course's main goal is to get people from Point A, where they are, to Point B, where they want to be. People aren't interested in buying a course, they want to buy a RESULT or a TRANSFORMATION. That's what you are selling.
Subsequently, you should explain how people will change (for the better) after taking your course. Mention the problems of your target audience and explain how your course will fix them. In order to make your online course a success, you need to provide your students with a success story of their own.
Read More: The Anatomy of a Compelling Course Sales Page (And How to Make One Yourself)
Weeks #3-4: Grow Your Audience & Release Free Content
You're halfway there! Once you've set goals and created a compelling sales page, you can focus on growing your audience.
Visibility is important. No traffic or leads means no conversions. As a result, you need to devote time and resources to building your list. Without these, I guarantee you'll have a hard time making sales.
The simplest way to start out: Offer your viewers free content in exchange for signing up to your newsletter or lead magnet. It can seem counterintuitive to spend money creating content just to give it away for free, but offering your audience a "taste" is a great way to get them coming back for more. This goes without saying, but make your free content relevant to your course.
If you're teaching a course on social media marketing, you don't want to make your free content about creating a television marketing campaign. This will only confuse students on what your course is about, eventually leading to poor satisfaction and completion rates. Additionally, you don't want to skimp on your free content either. Don't just offer your subscribers a few shallow paragraphs. You need to give them VALUE. Show them your expert knowledge and gain their trust. I recommend creating an ebook, a webinar, a "challenge", or downloadable worksheets.
The takeaway here: "free" and "valuable" are your friends. Creating free content as a lead magnet is a great strategy to grow your audience in preparation for your launch. Those on your opt-in list will already be "warm" to your product and as a result, more receptive to your content.
Week #5-6: Pre-Launch—The Home Stretch
Throughout these final weeks, you'll want to continue building your email list. Simultaneously, you should also begin planning your course's pre-launch.
Almost every successful online course, product, or app has had a pre-launch. Why?
A pre-launch allows you to build a relationship with your audience before your course officially goes live. Pre-launches give your audience a sneak peek, promoting excitement and engagement. If people like what they see, they'll want to take the step to buy your course.
Your pre-launch should take place approximately 10-15 days before your course goes live. Your goal here is to generate hype around your course. There are various ways to do this such as:
Offering additional course materials for free
Posting more frequently on social media—advertising your launch
Increasing your ad frequency
Reaching out to influencers
Taking pre-orders
You may also want to consider a "soft launch." A soft launch allows you to release your course to a restricted audience. As an additional incentive, you can advertise a special price for your select audience. Not only does this guarantee pre-orders, but soft launches can also provide feedback to help you address any site kinks or issues before your hard launch.
It's Launch Time!
Congratulations! You made it.
All your effort throughout the weeks has finally come to fruition.
I always recommend my clients have an Open-Close Course Launch. Essentially, this means students can only enroll in your course for a limited period of time. It may seem counter-intuitive by restricting students from enrolling in your course but let me explain.
Remind your students of the fleeting opportunity that is your course. By creating a purchasing window, you'll create a sense of scarcity for your course. When something is perceived as limited, people will want it more. This goes for everything from shoes, to cars, to electronics. Because the purchasing window is limited, it motivates viewers to act now, not later.
You know your online course is special. Now that you've launched, it's time to prove it.
FREE LIVE TRAINING
3 Proven Methods to Create a Profitable Online Course
Register if you want to increase YOUR online course sales, YOUR credibility, YOUR profit margins and simplify YOUR online business.

Free Live Training Presented by Mike Weiss. Seats are limited!