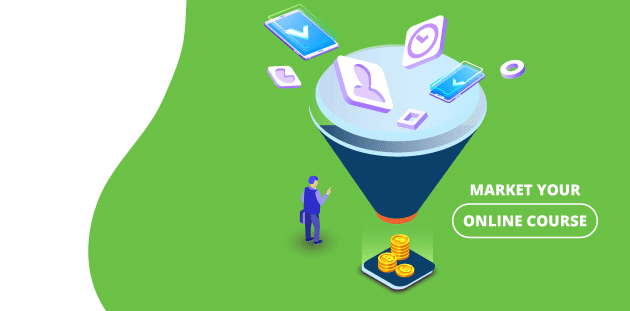 Wouldn't be great if your online course could just itself?
While it's nice to believe that a good course will "just sell itself," this thought is both unrealistic and potentially discouraging, as it can cause course creators to believe that a lack of sales is a result of a flaw in their product rather than their marketing plan.
To be frank, it doesn't matter how great your course is if you don't promote it to the right people, at the right time, the right way. Your information could be worth its weight in gold, but if you lack visibility, people aren't going to know who you are or what you're selling.
If you do succeed in capturing the attention of your target audience, your concern then shifts to how to convert these people into paying customers. They're on your site now…but then what? You know you need to keep your visitors engaged with valuable content and have them subscribe or buy your products…but how? And this isn't even the end of it.
Overwhelmed? Don't be. I've put together a step-by-step guide to help you effectively market and sell your online course to your target audience.
5 Steps to Make More Money with Your Online Course
Download our free ebook to learn our proven methodologies for making more money with your online course or membership site.
1. Create a Monthly Marketing Plan
Too often, course creators treat marketing as an afterthought. They fixate all their energy on creating their content, throw together a big launch, and then act surprised by their course's lack of sale.
You need to create a marketing plan and plan at least three months BEFORE your launch.
Creating a "brand" takes time. You need to start creating content, generating buzz, and getting your name out there before you go live with your product. Furthermore, not only is it crucial you visualize what the months leading up your course launching are going to look like, but you should also think about the months after. Ask yourself: what is your end goal? Once members purchase your course and join your site, what then?
Is your goal to have them continue using your site? Are you looking to sell them another course? Are you planning on expanding? If so, how?
If there's only one thing you take away from this post let it be this: planning is everything (don't you dare forget it!)
2. Visualize Your Target Audience & Define Your Message
It's important to understand who your target audience is. Who are they? What do they work as? How are they going to benefit from your online course in their day-to-day life?
Your course should speak to their challenges, needs, pain points and goals. They need your information because it'll produce an important outcome for them–find out what that is! Despite the desired outcome, your potential students haven't learned the course information yet because of a reason–find out what that is too. Do they have very limited time to learn? Do they need an instructor to guide them through the course material?
Understanding your target audience and answering their needs will help you:
A: Create a course that helps them, and
B: Market your course to the people who want and need it most
C. Present yourself as the solution to their problems by showing them what you and your course can offer.
Remember: you aren't just selling a course. You are selling a solution/outcome.
3. Identify What Makes Your Course Different
Chances are, there are other people selling courses in the same niche as you. Don't worry, it's a good thing! It means there's a market for your material.
However, this also means there's competition as well. Ask yourself: why would someone choose your course over another's? What makes your course special?
When promoting your course, you should highlight what distinguishes you from others. It can be anything from offering more insight on specific topics to giving students more one-on-one time to even your teaching style or proven methodologies that have worked with big clients.
Check out how I helped a Digital Marketer's Certification Program go from 0 to $2,000,000 in less than 2 years.
List whatever it is that makes you different. Refrain from being vague and instead, be as specific as possible. These reasons you've listed are your course's key selling points. This is what you should sell your audience on.
4. Design a Sales Page
As mentioned previously, visibility is extremely important. But if you fail to convert your visitors into customers–you aren't going to make any money.
My favorite way to help convert visitors into members is to remove risk. It's natural for people to be wary of strangers. Visitors don't know you personally–at least, not yet. To them, you're just another face on a screen. Your course is filled with promising outcomes and solutions, but to the cautious viewer, they may sound too good to be true.
No one likes feeling "locked in" to something when they're uncertain about. That's why offering a 30-day money back guarantee can put viewers at ease and make them more confident about their purchases. Removing risk doesn't mean every member is going to quit your site after 30 days. Chances are if your content is good, your customers are going to want to stick around.
In addition to removing risk, I find featuring testimonials to be another great way to convert viewers. Think about it: the idea of having people publically vouch for you isn't new. After all, when you apply for a job, you're often asked to put down references.
Feature people who have positive things to say about your course and how it helped them in their day-to-day life. If you can, include photos too. Customers will be more inclined to trust you when they know others are willing to endorse you.
Tip: If you're launching and haven't received any feedback/testimonies yet about your course, feature testimonies from your coworkers or friends about your character and expertise instead.
5. Create a Sales Funnel
Remember, your main goals are to attract visitors, capture their interest, and ultimately have them decide to enroll in your course. What a sales funnel does is help create a clear path to your online course for visitors to follow on your site. Essentially, it is the process you lead your customers through to make the decision to enroll in your course or not.
There are two basic requirements for creating a sales funnel:
1. Email Marketing. Email marketing is huge! So much so, we'll be covering it more in the next step. A sales funnel should build a list of email subscribers, allowing you to send them automated emails to guide them to purchase your course.
2. Traffic Source: If people aren't entering your sales funnel, then what are you funneling? You need to generate traffic, which means you either need to attract your followers (email subscribers, Facebook followers, avid readers, etc.) or you need to purchase ads to attract fresh faces into your funnel. Remember, you can't make sales if there's no one looking to buy.
BONUS: Webinar Software. If you can, consider hosting a live webinar where you talk about your course to viewers who "pop in." This step is optional, as it may not be the most practical for everyone. However, if you can, I find implementing webinar software creates the most interactive and enjoyable experience for your audience. I also find it to be the most effective way to sell your online course.
6. Build an Email List
Email marketing has been around since the beginning of the Internet–and for good reason too. Being able to email people who are already interested in your course topic or niche is a great way to target your ideal audience and increase sales.
If you still don't have a list, build one by creating a powerful lead magnet. A lead magnet is an incentive that will "pull" your customers to exchange their emails for valuable content. You can offer your customers anything from a free master class to a discount on your upcoming courses. Be creative when it comes to creating a lead magnet (here are some ideas!). The more actionable and tempting your incentive is, the more people will opt-in for your content.
7. Post Often & Use Long-Tail Keywords
Unfortunately, you can't rely solely on email marketing. This goes double if you're in a competitive niche.
You don't need a background in digital marketing, but it is important you understand a little bit on how SEO (search engine optimization) works. If you're in a competitive niche, there are going to be a lot of high-traffic search terms. This may sound like a good thing initially, but think about it this way: a lot of competition means a lot of other sites ranking for the keywords you want to rank for–which means a lot of search results for sites that aren't yours. Your chances of landing in the front page of results are slim to none.
You want a search engine's algorithm to favor your online course sales page or blog. You can do this by posting consistently with new content and by using long-tail keywords strategically.
Long-tail keywords are low volume yet very specific searches that convert visitors into customers extremely well. To find long-tail keywords for your online course, I recommend using tools like Wordtracker, SEMrush, and Google Trends.
8. Increase Your Visibility with Social Media
Take advantage of social media platforms like LinkedIn, Instagram, Twitter, and Facebook to generate buzz about your courses. Depending on your subject and niche, you should choose using one over the other. Don't just be in all for the sake of being in all!
Grow a following and post about your lessons, share testimonials and positive feedback, comment on subjects in your niche, and alert your followers on pre-sales. Social media is huge and powerful, and by not taking advantage of its many benefits, you're cheating yourself out of an entire market of tech-savvy consumers.
Social media is also a great way to direct traffic to your online course sales page. You can bring your followers to your online course page in two ways: by giving away free content or by paying for advertising. For this piece, I'm going to focus on the latter.
Paid advertising works in two ways: Targeting and Remarketing. When using Facebook Ads, you can target your ideal audience. Facebook is the perfect platform for this, as all users are required to fill a profile, which displays their location, age, gender, work & education, relationship status, etc. You can also advertise your courses in Facebook groups and pages pertaining to your niche.
As its name implies, remarketing re-markets products to consumers who didn't make a purchase upon their first inquiry, but they've visited your site before. Let's say you're interested in buying a new watch As you're doing research on different brands and models, you begin to realize that all your ads are now about watched. You notice an advertisement for the exact model you were researching an hour ago.
Remarketing allows you to place ads in front of an audience that had previously visited your site but did not make a purchase. The purpose of these ads is to remind your audience of your page, have them revisit, and hopefully this time convert them.
9. Go Live! Host a Live Webinar or Live Event
I briefly touched upon this previously, but I cannot stress enough how effective webinars are in converting visitors into customers. And don't just take my word for it––InsideSales.com reports that 73% of marketing and sales leaders agree too!
The best thing about live webinars is that they allow you to interact with your customers and give them a clear path forward to taking action. They create an authentic "classroom" setting, allowing viewers to pick your brain and ask questions and send comments. You can also create polls during your live webinar to promote viewer engagement and activity.
GoToWebinar's recent study on content engagement reported that people are willing to spend more time with webinars, followed by podcasts and videos, than any other types of content. Higher engagement means higher converting potential, so make sure you follow through with the previous steps and have a plan on how to convert your audience.
If webinars aren't your thing, you can focus instead on creating weekly Facebook Live videos or an Instagram TV Channel. This will allow customers to watch you from wherever they are, whether it's in bed or halfway across the world. And if followers miss you live, they can simply watch your video at a later time. Creating evergreen content will also ensure your videos stay relevant no matter when someone decides to tune in.
Tip: Don't worry if you're a little camera shy–we weren't all meant to be movie stars. Instead of filming yourself, you can create a live video sharing your screen or a presentation.
While your course can't sell itself, a good marketing plan can certainly make you feel like it is–increasing conversions and profits. Follow this step-by-step and utilize tools like lead magnets, live webinars, and remarketing, and you'll be well on your way to more website visitors, more leads and ultimately, more CUSTOMERS.