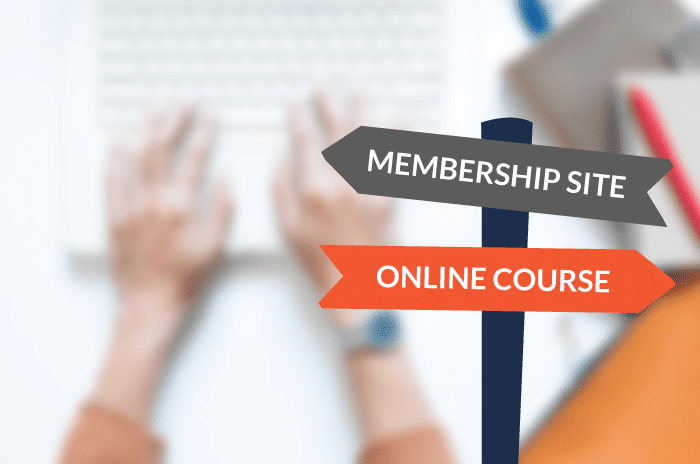 You are the expert, and now you want to share your knowledge with the world at large. But you are confused. You know you want to create informational products for your audience, but the question that's bugging you is how to sell your products.
Should I create an online course and sell it on my blog?
Or should I build a membership site and charge members to access the content I constantly put up there?
There is no right or wrong choice here. What is best for you depends on how much money and effort you want to put into your products, how much information you have to share with the world, the size of your audience, and the nature of the subject.
But before you plunge into a decision, learn more about online courses and membership sites, especially how they work, so you know what you are getting into.
Membership Website
In a nutshell, a membership site is like a gated area of your virtual business world that users can access only by paying a fee. Your membership site is not just a platform for you to put up new content; it is also a community where you can interact with your members.
The following are the features of a typical membership site:
Only users who subscribe to your site can access the content you have placed here
Your site can contain any number of information products, from blog posts and articles to tutorial videos, online courses, and webinars.
Membership sites usually let members maintain an active paid subscription account, so they can access new content every month or week, receive offers, take advantage of deals, and take part in community activities.
Members automatically gain access to content as soon as you put it up. An automated subscription management system revokes access if a member cancels his subscription.
The administrator can track learner progress with assignments and other practice activities.
Some membership sites set up different levels of member access. For instance, there can be basic membership plans for a standard fee while premium members can access more content.
Membership sites work with automated mailing lists. Specialized applications shoot newsletters and emails at regular intervals to subscribers or automatically send welcome mails when members sign up for or buy a new product.
Membership sites let you gather information about your target audience and create highly-
focused content.
Online Courses
As the name suggests, an online course is delivered virtually and can be accessed on a PC, laptop, mobile phone, or tablet. Most online courses contain multimedia content and consist of one or more modules. Online courses with multiple modules may be delivered over a span of several weeks or months.
The following are the features of a typical online course:
A course can be purchased and accessed after paying a one-time fee or making regular installment payments. In turn, the buyer gains long-term or lifelong access to the course.
Online courses are structured as distinct modules that can be delivered in a staggered mode. However, the entire course may be delivered all at once as well.
A definite content path is laid out right at the beginning of the course, so the audience knows
how their learning journey will unfold
The administrator can track learner progress with assignments and other practice activities.
Group or one-to-one support may be available on buying a course.
Whether an online course or a membership site is the right choice for your business depends on you and the nature of the subject you want to impart knowledge on. If you are in doubt about which option to go in for, ask yourself the following questions:
1. Am I passionate (enough) about the subject?
Building a membership site is not difficult. What is more difficult is to keep it going. You need passion (oodles of it) to maintain a membership site.
First and foremost, you need to be passionate about the topic you are going to teach. Then you need to identify your strengths and weaknesses, so you can work on and hone what you are good at and delegate the mundane, repetitive, and clerical tasks or those that you are not good at.
2. What stage of content development am I in right now?
If you are just starting out, then your priority is to establish your authority in your niche. So forget about membership sites. Instead, create an online course and offer it for free or sell it. As you create more content and more and more people get to know about you, you can create a membership site and provide access to your products for a fee. For instance, a membership site is a perfect way to expand your business if you want to bundle several of your courses and offer them at discounted rates to members.
3. Is there enough matter to create new content continuously?
If you want to build a membership site, you have to think and plan for the long term. So there should be enough new information for you to create a steady stream of content. You need to refresh your site with new content regularly. Think at least one new blog post every week or a new online course every
couple of months.
Here's a rule of thumb. Take a piece of paper and jot down all the possible topics you can write or create courses on. Cover different perspectives of a single topic to generate a comprehensive list of ideas.
Do you think there is enough material out there (or in your head) to populate your website every month for at least a year? The answer should quell all your doubts.
4. Do I already have a large audience?
A membership site is definitely the next step forward if you already have a large audience for your offerings. Ask yourself:
Do I have a large audience who know about me and recognize my authority in my niche?
Do my blog posts receive a lot of comments?
Do I receive a lot of emails or queries regarding my topic?
If you have answered yes to one or more questions above, then it is time you graduate from your blog and build a membership site. You already have people flocking to your blog posts, so why don't you give them more, so they hang around? Make sure that you have the answers to their questions, so they
don't move on to other sites. Build a membership site and turn it into a one-stop shop for knowledge in your niche along with nifty features like single-click purchasing facility for members.
5. How much money and effort do I want to invest?
This is a crucial question to consider. Offering exclusive through a premium membership site is a great way to generate passive income. But you have to be willing to put your nose to the grindstone and burn the midnight oil at the outset before you can sit back, relax, and see the cash registers ringing.
Sure, there are plenty of applications available that make setting up a website and putting in place subscription and content management systems a breeze. But you must be willing to invest money in these and then put in the time and effort to create content and update the site regularly.
6. Do I want to manage an online community?
It is not enough that you post new content regularly on your site. You would want to keep members engaged as well.
An active community is integral to the success of a membership site. Although you can offer courses that let members master specific skills on their own; it is always a good idea to weave in social features into your products. For instance, you can provide access to a Facebook group or organize live call sessions to interact with members and guide them on their learning journey.
Do you want to invest the time, money, and effort needed to manage an ongoing online community? If the answer is yes, consider building a membership site.
7. Can I be consistent?
Creating a membership site is only the first step of the journey. You are in this for the long haul, and you have to COMMIT to the journey!
You have to commit to creating fresh and relevant pieces of content regularly. You have to commit to maintaining the site and keeping it glitch- and hitch-free to navigate. You have to commit to interacting with your members regularly. You have to commit to being there for your members with your
knowledge, advice, support, and guidance.
To build a successful membership site, you have to be passionate and productive, consistently and relentlessly. On the other hand, an online course demands much less commitment from you.
Here's a disclaimer. Creating an online course and building a membership site need not be mutually exclusive options. Your business can have both and profit from both. Although it is a good idea to concentrate working on one business model while you are getting started, you can always plug in an online course into your membership site. In the end, the choice boils down to how much investment you are willing to make, the nature of the content you are presenting, and the size of your audience.